This article may contain affiliate links, which may earn us a commission - at no extra cost to you - if you use one of our links. Please see our disclosures page for more information.
If you're wondering how to see the very best of Scotland in 4 days, then I hope you find plenty of inspiration and advice in this road trip itinerary.
In just 4 days, you'll see:
Edinburgh

Loch Lomond

Glencoe

Glenfinnan Viaduct

Fort Augustus and Loch Ness

Isle of Skye
Plus, if you're travelling from the south of England and want to break up the driving a bit, then we've also tacked on an additional day to suggest you spend a one-night stopover at the Lake District on the way, on the way back, or both!
That's how we did our own Scotland road trip a few years ago, but we also learned a lot during that trip too.
This itinerary is a combination of what we experienced and how we'd do things differently now that we're older and more experienced when it comes to travel and weekend getaways.
Here's how it looks at-a-glance:
And here's how the itinerary looks in full…
Day 1 – Southern England to Lake District
Scott and I were very new to the world of road trips when we decided to embark on our mini adventure.
We'd never done a road trip before and this would also be our first time camping together (we were also on a financial budget).
We knew that many hours of driving would have taken its toll on us so we wanted to break up the drive a little bit with a stopover at the Lake District, which was well worth doing!
You could also stopover at the Lake District on the way back if you prefer. Or maybe even both? There's plenty to see!
Neither of us had been to the Lake District before and yet, we'd heard so many great tales about vast lakes, rolling hills and chocolate box landscapes. Given it was on the way, we thought "Why not?"
And boy, am I glad that we did stop here?! Just take a look at the view we had from our tent!
We set off in the early hours of the morning (6am) so that we could pitch up our tent at Ullswater in the Lake District by lunchtime.
With both of us sharing the driving and neither of us driving for longer than two hours at a time, the drive was actually spectacularly easy.
It was finding the campsite that was the hardest part.
Check-in
We stayed at Gillside Campsite in Glendridding. It was such a lovely location by the side of Lake Ullswater, but we must have driven past the entrance sign about four times.
Our GPS had stopped working in the depths of the Cumbrian countryside so we decided to explore on foot and find out where we needed to go.
Next, we found ourselves rumbling along a dirt track before finally reaching the campsite (bang on time for 12 noon).
£20 later, we were investigating the best spot for camping. After all, we hadn't come all that way to not have a view of the lake when we awoke the next morning.
We found a perfect view of the lake from the tops of a small, grassy slope. In hindsight, we should've pitched our tent on a flat patch of grass instead as we kept sliding down our sleeping bag in the night.
But hey… the view from our tent was incredible and worth a bit of a sore neck in the morning!
Exploring Glenridding
Once our tent was ready, we started our hike around Ullswater. The lake is huge, so we only saw a part of it, but the views were unforgettable.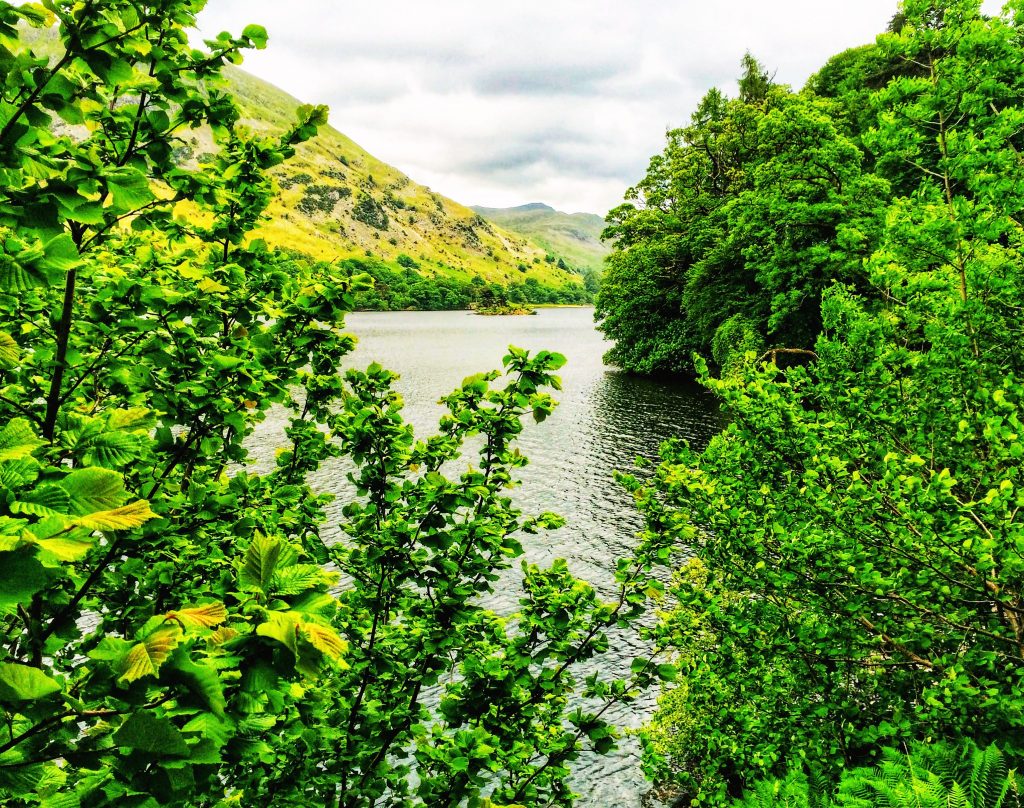 Once we'd finished admiring the views, we walked back towards the campsite in search of some food.
We stumbled across a traditional country pub called the Pooley Bridge Inn where we feasted on thick succulent sausages and cold English beer. We also played some pool together here.
All in all, the first day of our trip was incredible – and we hadn't even arrived in Scotland yet!
Day 2 – Lake District to Edinburgh
We awoke early the next morning to catch one final glimpse of Ullswater before packing up our tent and making our way up to Scotland.
Edinburgh was our first stop, which took us about three hours to drive to from Ullswater. This relatively short drive meant we could spend the best part of the day exploring the sights of Edinburgh.
It made sense for us to start here because it's in the southern part of Scotland and enabled us to see (and camp!) at lots of beautiful places as we headed northwest towards the Isle of Skye during the remainder of our trip.
Check-in
Luckily we had thought ahead and realised our camping skills probably left a lot to be desired. So our one night in Edinburgh was at a locally-run bed and breakfast.
Despite Edinburgh being a large city, our drive through it to get to our accommodation was far more peaceful than either of us was expecting.
There weren't too many cars around and all the main roads were well signposted. But it was a weekday morning (a Friday) when we drove up to Edinburgh, so that could have been why. A weekend day is likely to have been much busier.
Exploring Edinburgh
We left the car at the B&B and hopped on a tram, which was conveniently located behind the B&B. We found ourselves in Edinburgh's city centre within about 30 minutes.
The first stop on our list of must-see highlights was Edinburgh Castle. With views across the city and plenty to learn about here, we enjoyed taking a relaxed wander around the castle with a tour guide.
Did you know that the Scottish crown jewels were lost in the castle for over 100 years?
The jewels were locked away in a chest and stored in the castle but had been forgotten about. A group of men, including Sir Walter Scott, set out to recover the jewels in 1818.
This was just one of many interesting facts and stories we heard during our tour of the castle!
Once we'd finished exploring the castle, we walked back through the city centre to go in search of Arthur's Seat in Holyrood Park.
Our time in Edinburgh was mostly seen on foot but I have to confess that it's quite a trek to Holyrood Park from the centre of Edinburgh. It took us about an hour to walk it.
A hike to Arthur's Seat is also not for the faint-hearted as you have to climb a very steep hill.
But if you are able to climb to the top, then the views across the city are well worth it!
Our final stop before heading back to our B&B was to eat some traditional Scottish food. We ate at The White Hart Inn, which is supposedly the oldest pub in Edinburgh (it was established in 1516).
Once our feet started to ache from all of the walking we'd done, we decided to call it a night. We had to be up early again the next day to head to Loch Lomond, Glenfinnan and Loch Ness.
RELATED: Through The Eyes Of A Local: Edinburgh, Scotland
Day 3 – Edinburgh to Fort Augustus (Via Loch Lomond, Glencoe and Glenfinnan)
Scotland is a country made for road trips. Many of the popular locations are all perfectly dotted around the map, making road trips like this one super easy!
Stop 1: Loch Lomond
We drove from Edinburgh to Loch Lomond in just a couple of hours and enjoyed canoeing on the lake.
At the time, there was a little business by the side of the lake renting out canoes, kayaks and paddleboards. It also looked like a gorgeous place to go hiking!
As it was fairly early in the morning, we stopped off for some breakfast at Cafe Zest. It's inside the Loch Lomond Shores shopping mall, which overlooks the southern part of the lake.
While we were here, Scott thought it would be a good idea to buy some scones and little pots of clotted cream and jam for later.
We'd be at Glenfinnan Viaduct (roughly 2 hours and 45 minutes away) at about lunchtime, so his idea was for us to tuck into scones while the Harry Potter train chugged past.
Oh, how very British of us! I may just have fallen a little bit more in love with him right there and then.
Stop 2: Glencoe
You'll likely pass through Glencoe en route, which is a prime spot for hiking should you have time.
Alternatively, Glencoe is also chock-full of sublime vistas and photo opportunities where you can pull up in a layby and do a little bit of exploring.
As we didn't want to miss seeing the train at Glenfinnan, we just stopped off a few times en route to admire the views.
Stop 3: Glenfinnan Viaduct
Glenfinnan Viaduct is about an hour's drive from Glencoe. If you want to spot the train crossing Glenfinnan Viaduct then you'll need to calculate the time in advance.
We'd spent some time researching before our trip and had worked out that arriving in Glenfinnan for about 2pm would give us a bit of time to find a good spot for photos and patiently anticipate the arrival of the infamous train, which was due to go past at about 3pm.
This was just our experience!
The train times may well have changed by then, so take a look at the up-to-date ones here.
We parked at the visitor centre (National Trust members can park for free!), then we had a little look around inside before heading up a small slope by the side of the visitor centre. This was a great spot for seeing the train and the incredible views behind us!
Right on time, we could hear the chugging of the steam train and suddenly the clicking of dozens of cameras going off around us. Just one more corner stood between us and the train and our excitement was bursting at the seams. Gasp! There it is!
For other Harry Potter lovers out there, this is a must-see. The films are really brought to life for you at that moment.
Now add in a couple of scones to the mix and you will be a very happy person indeed!
RELATED: Harry Potter Filming Locations & Magical Things To Do
Stop 4: Fort Augustus & Loch Ness
Once we'd finished taking photos of the train and had eaten the last of our scones, it was time to get back on the road and set up camp at Fort Augustus near the southern part of infamous Loch Ness.
We stayed on a lovely little campsite, which sadly, looks like it's closed down since our trip.
However, there are plenty more hotels, B&Bs and campsites in this area. Take a look at a few of your options here.
While staying here, we saw part of the lake. But we also got the opportunity to drive past it the next day, while en route to the Isle of Skye.
Of course, you could spend longer here if you wish.
Days 4 & 5 – Isle of Skye
Although it's possible for you to drive around the Isle of Skye in just one day, we'd recommend spending two days here.
Not only is there so much beautiful countryside and views to admire, but there are also historic sights to discover.
The island's largest town is called Portree and it makes for an excellent base for sightseeing around the island.
There's a lovely viewpoint and some old castle ruins in Duntulm, which is roughly 40 minutes north of Portree. So definitely add that to your list of things to do!
Otherwise, you'll likely want to spend as much time as possible outside; simply walking and taking in the views.
Looking for accommodation in Portree? You might like one of these hotels >>
Are you ready for a Scotland road trip?
We hope you've found this 4 day driving itinerary for Scotland helpful and inspiring.
After staying on the Isle of Skye, you'll likely have a long drive back, so you might want to do another stopover in the Lake District.
Alternatively, you could also just do one day on the Isle of Skye and save the fifth day for a stopover.
Either way, you would've seen some of Scotland's most famous and beautiful sights (plus a few bonuses!)
---
So, tell us, where are you most excited to see first? Let us know in the comments below…
Did you find this 4 day Scotland driving itinerary helpful or inspiring? Share it with a friend!