This article may contain affiliate links, which may earn us a commission - at no extra cost to you - if you use one of our links. Please see our disclosures page for more information.
Are you wondering what to buy in Belgium on your next trip? We've got you covered with this list of ten authentic souvenirs from Belgium. No keyrings or mugs on this list!
From traditional souvenirs to wacky ones and even beautiful Antwerp diamonds, here are our favourite souvenirs from Belgium. We're pretty sure you'll find something you want to buy and take home with you. So, let's find out which one of these will be first on your shopping list.
1. Belgian Chocolate
Belgian chocolate is easily the most famous chocolate in the world – and one of the most popular souvenirs from Belgium.
Known for its creamy velvety texture that just melts on your tongue, tourists all over the world flock to Belgium in search of the best chocolate.
Not to mention the praline was also invented here!
Although you can buy Belgian chocolate across the world, there's nothing quite like visiting a chocolatier in Belgium itself. At every turn, you'll be faced with bitesize pralines, buttery cookies and beautiful chocolate gifts.
Where to buy authentic Belgian chocolate
Some of the most famous Belgian chocolatiers include Neuhaus (inventor of the praline), Godiva and Leonidas.
But other delectable – and more local – chocolatiers include Pierre Marcolini, Corné Port-Royal, Mary, Meert and Dumon.
Can't decide which one to shop at? We recommend choosing a small number of chocolates from each store that excites you as part of your own self-guided chocolate walking tour. Here are some ideas for Brussels and Bruges.
Visiting Belgium at Christmas? We can also vouch for an extra special chocolate advent calendar from Neuhaus!
2. Beer and Beer Glasses
Belgium is a small country but did you know that there are over 100 breweries here producing 700 different types of beer? You'll be spoilt for choice that's for sure!
Just like Belgian chocolate, you've likely seen Belgian beers in your local supermarket. But when bringing some beer back home as a souvenir from Belgium, you should choose the brands that are harder to export and find anywhere else.
Belgium is famous for 'Trappist' beers, which are brewed by Trappist monks within just fourteen monasteries across the world. But as there are six of these special breweries within Belgium itself, it's a great country to buy Trappist beer as a souvenir.
According to BelgiBeer.com, Belgian Trappist beers you should try include Westvleteren 12, Orval, Rochefort 10, Westmalle Tripel and Westvleteren Blond.
Other popular Belgian beers (not of the Trappist variety) include Cuvee ST Antoine, Diole, La Boterresse, Cantillon and Brasserie de la Senne.
Also, did you know that in Belgium, nearly every beer has its own corresponding branded glass?
Belgians believe the shape of the glass is important for enhancing each beer's unique flavour, so if you want to drink your beer at home like a Belgian would then grab the glass to match when buying your beer souvenir!
Where to buy authentic Belgian beer
With over 100 breweries in Belgium, you won't have to hunt high and low for a beer souvenir.
If you're really into beer, then a trip to a local brewery will make for a great day trip and also provide you with the perfect place to pick up a souvenir.
Popular Belgian breweries include De Koninck in Antwerp, Cantillon Lambic in Brussels and Brewery De Halve Maan in Bruges.
You might also want to visit the Trappist monasteries in Belgium, which are:
St. Benedictus-Abbey (Achelse Kluis) in Achel

Abbaye Notre-Dame de Scourmont in Chimay

Abbaye d'Orval in Villers-devant-Orval

Abbaye Notre-Dame de Saint-Remy in Rochefort

Sint-Sixtusabdij in Westvleteren

Abdij van de Trappisten van Westmalle in Westmalle
If you'd prefer not to visit a brewery during your trip and just take some beer home to your loved ones, then a local grocery store will have plenty of choice, as will the Carrefour chain supermarkets.
You can also find specialist beer shops throughout Belgium such as Beer Planet in Brussels, Struise Beer Shop in Bruges and Bierland in Hamme to name a few top choices.
3. Manneken-Pis Mementos
Manneken-Pis, built in the 1600s, is a small statue of a boy going for a wee. And in true unique Belgium fashion, it has become something of a mascot for Brussels over the years.
You may even be lucky enough to see him in an interesting outfit!
Given his immense – if not bizarre – popularity, it should come as no surprise that you can buy all kinds of Manneken-Pis souvenirs throughout Brussels.
From magnets and miniature figurines to shot glasses and corkscrews, the choice is yours as to which Manneken-Pis souvenir you pick.
Either way, it'll definitely be one of the most weird and wonderful Brussels souvenirs you buy during your trip!
Where to buy Manneken-Pis souvenirs
Although you'll be able to find Manneken-Pis souvenirs throughout Brussels, you must visit the gift shop at the La Vieille Lanterne Hotel at least once.
Inside, you'll find all the weird and wonderful souvenirs we've mentioned above, but you'll also be able to see (and buy…? Your choice) life-size versions of Manneken-Pis.
We think they would look stunning in any chic garden… ahem, maybe, maybe not.
4. Belgian Lace
For centuries, Belgium and lace have been synonymous with one another. Lacework is one of the most traditional Belgian crafts, making it one of the most traditional souvenirs from Belgium you can buy.
Lace making has been a key contributor to Belgium's economy since as early as the 12th century, and during the early 20th century, there were as many as 47,000 lace makers in Belgium alone.
Today, Brussels and Bruges are both renowned for their intricate lacework. But we think Bruges in particular should be your first stop when it comes to buying Belgian lace and souvenirs from Bruges.
This is because as much as 70% of the 47,000 lace makers mentioned above came from Bruges. At one time, over a quarter of all women in Bruges were lacemakers and there was even once a lace-making school here as well.
Bruges are proud of their lacework heritage. There are several shops selling lace and there's even a lace museum that you can visit.
But most interesting of all is that by the side of the canal, there's even a map of Bruges made out of lace!
Where to buy Belgian lace souvenirs
If you've decided to head to Bruges in search of authentic Belgian lace then there's one shop that should be first on your list: 't Apostelientje.
't Apostelientje specialises in handmade vintage lace products such as doilies, table runners, clothing, coin purses and lace-hemmed handkerchiefs. You can even buy lace by the metre for use in your own projects at home.
There are many shops throughout Bruges and Brussels that sell lace but it can be difficult to see what is truly authentic to Belgium. But at 't Apostelientje, you won't have this problem.
Although the larger and more intricate pieces don't come cheap, it's possible to purchase smaller pieces of lace as souvenirs for around €10 – €30.
5. Belgian Waffles
Belgian waffles… need we say more? Famous the world over for their thickness and large squares.
But did you know that in Belgium itself, you can buy different types of Belgian waffles?
Brussels gaufre waffles are what you'd expect to see when it comes to Belgian waffles. They are often rectangular shaped and doused in your favourite topping – chocolate and caramel are always firm favourites.
But in Belgium, it's also possible to buy Liège waffles, which are dense and chewy, crispy on the outside and slightly misshapen due to the different way that they're cooked. This will likely be what you'll get when buying Belgian waffles as takeaway street food.
Although you'll likely eat a lot of waffles when in Belgium, friends and family back home will be calling out for you to bring some home with you.
Where to buy Belgian waffles
To take some Belgian waffles home as a traditional Belgian souvenir, you'll need to opt for pre-packaged ones.
All good grocery stores and supermarkets throughout Belgium sell waffles by the cartload. A great brand to look out for is Lotus, which originally came from the small Belgian village of Lembeke. Larger supermarkets will also sell pre-packaged waffles they've made in-store.
But you might also prefer to head to a local bakery the day you're due to go home to buy fresh waffles. Just ask for them to be wrapped in cellophane or paper packaging and they'll last at least another day – if you haven't eaten them by the time you get home of course!
Some of the most-loved bakeries in Belgium include Himschoot in Ghent, Vitalgaufre in Brussels and Charli Boulangerie in Brussels.
6. Speculoos Biscuits
Before we visited Belgium, we had never heard of speculoos biscuits.
It was only once we'd ordered coffee in a couple of different cafés that we realised speculoos are always served on the side… and that they can be bought in practically every bakery, patisserie and chocolate shop in Belgium.
If you've never heard of them before, they are crunchy biscuits made with brown sugar and spices. Although not exactly the same, the closest I can describe them as would be like gingerbread or ginger biscuits.
Speculoos can be traced back as early as 1650. Originally made on the eve of Sinterklaas, well-behaved children would be given generous helpings of them as gifts and treats.
Today, however, you can get them throughout Belgium at any time of the year.
As we've mentioned, your tea or coffee is likely to be served with them and you will also find them in some chocolate and cake recipes to give them that extra crunch.
Where to buy Belgian speculoos
Any decent souvenir shop in Belgium will sell speculoos cookies packaged inside a tin or box to be given as a gift.
But if you want to buy some fresh speculoos then Maison Dandoy of Brussels is where you should go.
Dandoy has been making speculoos and other sweet delights since 1829 and all their souvenirs and gifts are prettily packaged. They even sell speculoos spread, which locals use on bread, ice cream, marzipan, chocolate and cakes. Is this the most perfect of all Brussels souvenirs? Maybe.
7. Comic Books & Comic Book Memorabilia
Some of the world's most famous comics originated in Belgium including 'The Adventures of Tintin', 'The Smurfs' and 'The Adventures of Astérix'.
Belgium's capital city, Brussels, celebrates this infamy with over 50 giant comic strip murals throughout the city, which you can see on a walking tour.
But you could take it one step further by buying a comic book and related memorabilia as unique souvenirs from Brussels.
Many of the well-known comics have been translated into English – we actually remember reading them as children, so you should have plenty of opportunity to buy your own copy.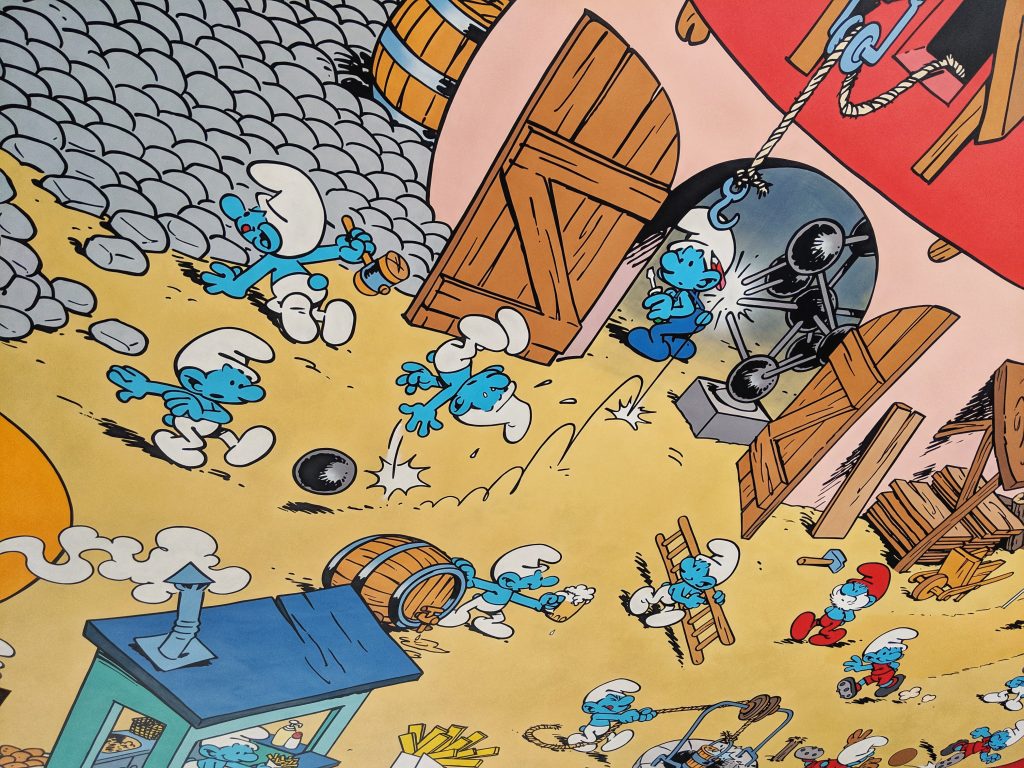 Where to buy Belgian comic book souvenirs
Brussels is where you should head for comic books and memorabilia as this city thrives on this kind of tourism more than any other in Belgium.
La Boutique Tintin near Grand-Place stocks a wide range of Tintin titles in several languages alongside various Tintin gifts, toys and homewares.
Brüsel, also near Grand-Place, stocks comics and memorabilia for all the top titles as well as lots of lesser-known ones.
Don't forget to take a trip to the Brussels Comic Book Museum, which also has an onsite book shop perfect for perusing through your favourite titles.
While the beautiful Galerie Bortier has several shops inside devoted to vintage and secondhand books. This means you may be able to pick up an original and more authentic copy of your favourite comic. Although expect it to be in French unless you're very lucky!
8. Miniature Gabled Houses
The gabled houses surrounding the Markt of Bruges are infamous, so why not let them take centre stage on your souvenirs from Belgium?
Fun Fact: The gables on the houses of Bruges are known as crow-stepped gables.
Although tourists often choose magnets and snow globes showcasing the gabled houses in all their glory, there is another option.
You can buy miniature versions of these gabled houses as ornaments – or even as additions to your model railway if you're into all of that.
Some even have signs above the door to describe them as florists, bakeries, restaurants and so forth.
We think they're really cute and make for a beautiful Bruges souvenir.
Where to buy Belgian gabled house souvenirs
As these are a total tourist staple, you'll find them in all good souvenir shops throughout Bruges for around €5 – €10.
9. Val Saint-Lambert Crystal
This isn't just any crystal… this is Val Saint-Lambert crystal.
Since 1826, Val Saint-Lambert has been making exquisite crystal homewares – from bowls and glasses to ornaments and vases – in the small village of Seraing near Liège.
Although their pieces can cost anywhere from €200 to €20,000 they do have the seal of approval from King Albert II himself and will be like no other piece of crystal in your house!
If you're lucky, you may even be visiting during one of their infamous fins de collections (end of collection) sales, which could see you snap up a beautiful bargain at over 40% off.
View this post on Instagram
Where to buy Belgian crystal souvenirs
Although there used to be a Val Saint-Lambert flagship store in Galerie du Roi near Grand Place, Brussels, we're pretty sure this has closed down as we couldn't find it during our recent trip to Brussels.
Instead… head to the village of Seraing near Liège. Here's the address the company has on their website: Cour du Val 245, B-4100, Seraing.
10. Diamonds from Antwerp
If you're wondering what to buy in Antwerp as a souvenir, then the only answer to that is: diamonds. This is the most expensive but the most precious of all Antwerp souvenirs.
Antwerp has been at the centre of the global diamond trade for well over 500 years.
In fact, according to Visit Flanders, over 84% of the world's raw diamonds pass through Antwerp and 50% of all cut diamonds find their way to Antwerp at some point during their journeys to customers.
Where to buy Antwerp diamonds
Today, you can visit Antwerp's Diamond District, also known as the Diamond Quarter or the Square Mile, which is near the city's Central Station.
To ensure you're buying authentic Antwerp diamonds, you should look for jewellers that have been given the quality label: Antwerp's Most Brilliant.
You can see a full list of the 24 certified jewellers here, which include stores such as Adelin, Diamondland, Oriane Diamonds and Rayjo.
---
What souvenirs from Belgium are you most excited to buy? Personally, we've got our hearts set on a beautiful crystal vase from Val Saint-Lambert but we can't quite stretch the pennies that far… yet.
Did you like this? Pin it now, read it again later!