This article may contain affiliate links, which may earn us a commission - at no extra cost to you - if you use one of our links. Please see our disclosures page for more information.
Belgium is home to several of the world's most famous comics, such as 'The Adventures of Tintin', 'The Smurfs' and 'The Adventures of Astérix'.
Belgium's capital city, Brussels, truly celebrates this infamy by showcasing over 50 giant comic strip murals along Brussels' Comic Book Route / Comic Strip Route – which is just one of many top reasons to visit Brussels!
This blog aims to equip you with the knowledge you need to head out on a self-guided walking tour of Brussels to see at least 10 comic strip murals and street art pieces. This post even includes a useful walking tour map you can access online or print out.
This particular street art walking tour lasts for approximately 1 hour and covers 2 miles.
Brussels Street Art Walking Tour Map
This Brussels street art walking tour starts near the Bruxelles-Midi train station, which is also where the Eurostar disembarks.
This makes it easy to head out on this self-guided walking tour as soon as your city break starts if you so choose.
Alternatively, you could opt to skip the first mural we've listed and start the walk in Anneessens instead where the famous Astérix & Obélix comic strip mural can be found.
You'll find a Brussels street art map for this 2-mile walk here, with photos and descriptions further on in the blog post.
We'll also highlight various landmarks and Brussels points of interest you'll see along the way, so you know what else to look out for during your walk.
Plus, if you're interested in designing your own Brussels street art walking tour, then we've also explained how we created this one at the end of this blog post.
Brussels Street Art Walking Tour – 2 Miles
1. Le Chat
Le Chat was a daily comic strip created by Philippe Geluck and was published in the newspaper 'Le Soir' from 1983 to 2013.
It was an exceedingly popular comic series and the cat eventually became known as the mascot of its publishing newspaper.
The accompanying comic strip mural was created in 1993 and depicts the title character seemingly building himself out of bricks.
Visit Brussels claims this is a "typical insult of the Marolles population since Poelaert built the imposing Palais de Justice, which overlooks this working-class district of Brussels."
The mural is high up on the side of a building, and you'll likely see it as soon as you walk through the pedestrian passageway beneath the R20 road.
Brussels Street Art Address Book:
Boulevard du Midi 87 – 1000 Bruxelles
2. Astérix & Obélix
Astérix or The Adventures of Astérix is a series of French comics, which first appeared in the Franco-Belgian magazine 'Pilote' in 1959.
Possibly one of Belgium's most famous comic strips, it's been translated into 111 languages around the world. We even read them as children ourselves!
The series follows the adventures of a village of Gauls people as they resist Roman occupation in 50 BC.
This is also depicted in the accompanying street art mural, which sees a heap of characters from the series charging at the Romans.
The mural itself is on a wall facing a basketball court, however, the gates to it aren't always open.
They were locked when we visited on a Friday in November so we had to push our cameras through the railings in order to capture all of it.
Brussels Street Art Address Book:
Rue de la Buanderie 25 – 1000 Bruxelles
3. Victor Sackville
Victor Sackville was a French-Belgian cartoon series that witnessed the missions of an English spy of George V around the world, especially in Brussels and other European cities.
The cartoon began in 1985 in collaboration with the newspaper, 'Pourquoi pas?', and has since been published in the 'Journal of Tintin' since 1988 and in 'Hello Bédé' since 1989.
The comic strip mural of this classy agent and an unknown woman fills the entire length of a wall beside shops and cafés. Given its size, it's hard to miss!
Brussels Street Art Address Book:
Rue du Marché au Charbon 60 – 1000 Bruxelles
4. Broussaille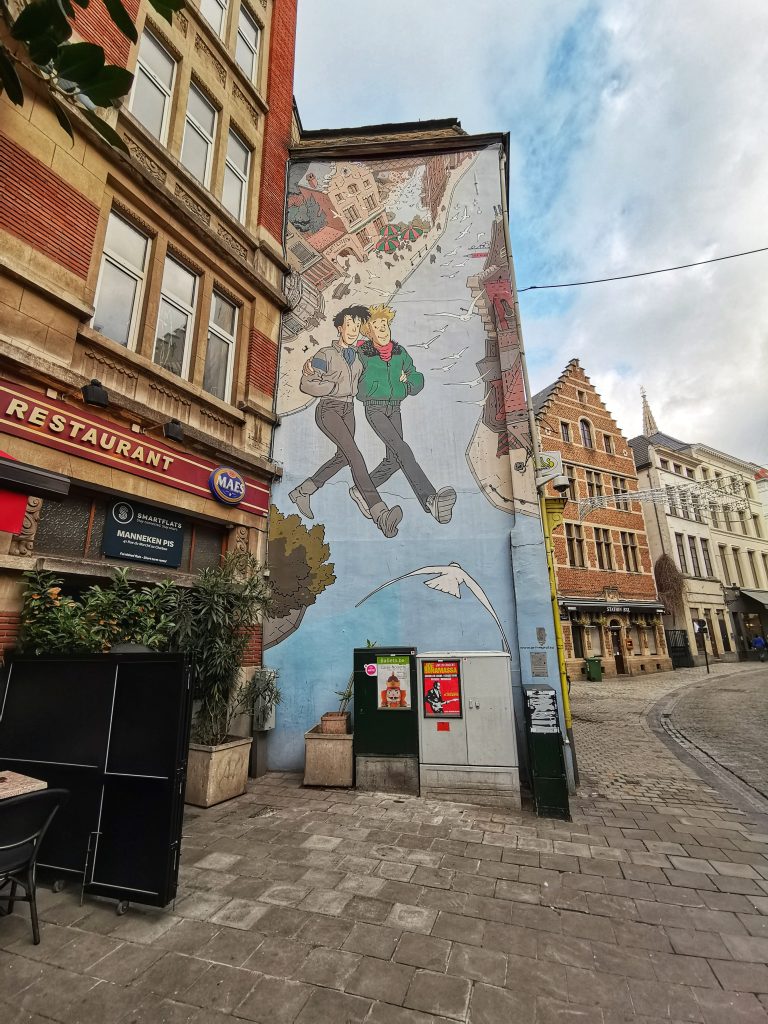 Broussaille is a Belgian comic, which was created as a spin-off series from the artist's original stories.
The comic follows the title character on his discoveries and learnings about nature, wildlife and animals.
The accompanying mural was the first Brussels comic strip mural to be painted (in 1991) and was painted by the original comic strip artist himself, Frank Pé.
It depicts a young couple arm in arm, walking through the streets of Brussels.
Despite it being located in Brussels' main gay nightlife hub (as suggested by the rainbow-coloured zebra crossings found near here), the mural is actually of a man and a woman, although it's very difficult to see this at first glance!
It's just across the road from Victor Sackville and is also a huge mural covering the full length of a wall on the side of a café.
Brussels Street Art Address Book:
Rue du Marché au Charbon 37 – 1000 Bruxelles
5. LGBT
The LGBT mural in Brussels is based on a comic strip like all the others, although a much more recent one compared with many of the other murals found on the walk.
The mural was painted as part of the Pride Festival, by Ralf König & Fotini Tikkou in collaboration with Rainbow House, the City of Brussels and Ancienne Belgique.
It depicts a number of stereotypes and homophobic reactions associated with the LGBT community.
Although it's a bright and fun piece, it needs a second look in order to see the sad deeper meaning. When we visited, we noticed that additional graffiti had been added to it (which we presume is not part of the original piece!)
Around the corner from this mural, you'll also find another LGBT series, which triggers even deeper meanings and feelings.
Brussels Street Art Address Book:
Rue de la Chaufferette 25 – 1000 Bruxelles
Top Tip: Look out for Choco-Story, Brussels' informative cocoa museum and home of chocolate-making demonstrations just up the road from the LGBT mural!
6. Tintin
The Adventures of Tintin is another of Belgium's most famous comic strips.
Dating back as far as 1929, the comics have since been published in more than 70 languages and have been adapted for radio, film and TV.
The comic follows the heroic adventures of Tintin, a young Belgian reporter and his loyal dog, Snowy, as they try to solve crimes and mysteries in the 1920s.
The accompanying mural is based on a strip found in its most famous comic book called 'The Calculus Affair', which was published in 1956.
The mural is along one of Brussels's most touristy roads where you're never too far from shops selling Belgian waffles, chocolates and souvenirs, as well as horse-drawn carriages rambling past.
It covers the full length of a wall on the side of a shop and is still super bright in appearance.
Brussels Street Art Address Book:
Rue de l'Étuve 37 – 1000 Bruxelles
Top Tip: Look out for the iconic Manneken Pis statue just around the corner from the Tintin mural!
7. Olivier Rameau
Olivier Rameau is a comic strip that dates back as far as 1931.
It tells the story of a young legal clerk called Olivier Rameau and the beautiful Colombe Tiredaile as they battle to save the fictional kingdom of Rêverose from various threats.
This mural was one of the ones I was most desperate to see after seeing how colourful it looked on another blog; it did not disappoint!
It's based on the 1960s versions of the comics and depicts the two main title characters standing on a field of flowers, trying to clasp hands as fireworks set off all around them.
Brussels Street Art Address Book:
Rue de Chȇne 9 – 1000 Bruxelles
8. Manneken Peace
Although not based on a comic strip mural, on the side of the Manneken Pis GardeRobe Museum is a large street art mural of a modern-day Manneken Pis, wittingly labelled as Manneken Peace.
It's fun and well worth seeing if you love everything about the iconic (and weird) symbol of Brussels!
Brussels Street Art Address Book:
Rue de Chȇne 19 – 1000 Bruxelles
Top Tip: Look out for the stunning Mont des Arts park on your way to the Smurfs mural!
9. Smurfs
The Smurfs is another of Belgium's most famous comic series.
It follows the village of some small blue people as they build their village, encounter magic from the native wizard and fall in love, and was first penned in 1958.
Since then, the comics have been translated into 25 languages and have been adapted for both film and television.
The comic strip mural in Brussels can be found on the ceiling of the Putterie passageway just across from the Bruxelles-Centrale train station.
It's huge, covering 206m2, and took over 60 litres of paint to create!
We struggled a little to find it as we didn't expect it to be on the ceiling, so hopefully you won't have the same issue now that you've read our blog.
If you look for the Putterie passage, walk inside it and look up, you'll instantly be hit with a dazzling array of bright blue, yellow, white and red, and the most charming Smurfs village scene.
We easily spent about 15 minutes standing inside this passage, admiring it from every possible angle.
Brussels Street Art Address Book:
Putterie – 1000 Bruxelles
Top Tip: The stunning Galeries Royales Saint Hubert shopping arcade isn't far from the Smurfs mural… well worth a look!
Other Street Art We Found in Brussels
Throughout our Brussels city break, we kept stumbling across other street art pieces as well.
We saw an old green chair being carried by a workman and pigeons around the corner from Astérix & Obélix, some colourful shop artwork near the LGBT mural, several musicians and a forest display near the Olivier Rameau mural and even Mickey Mouse opposite Marché aux Poissons.
The point of us mentioning this is that it just goes to show how much other interesting street art you'll find in Brussels alongside the more famous comic strip murals.
So… keep your eyes peeled throughout your visit to Brussels!
How We Designed Our Self-Guided Walking Tour
If you're interested in creating your own Brussels comic strip walking tour, then here's how we created ours.
Step 1: Make a list of must-see murals
First, we made a note of the addresses of all the comic strip murals we just HAD to see during our Brussels city break.
For both of us, these were Astérix & Obélix, Tintin and the Smurfs, as we'd both read and heard about these comics as young children. I was also desperate to see the Olivier Rameau mural as well.
We used this official website to get the addresses we needed.
Step 2: Use a map!
Then, using a good old-fashioned map that came with our Brussels guidebook, we set about plotting these murals on the map.
This helped us to establish where they were in relation to each other, as well as landmarks we already knew about.
Step 3: Find out which mural to see first
Once we had our map circled, we then needed to find out which mural was closest to our hotel, which in our case was just around the corner from the Bruxelles-Midi train station.
This meant Astérix & Obélix was to be the first main mural we wanted to see.
Step 4: Find out which murals to see next
From there, we established which order the next few murals should come in, leading us to see Tintin, Olivier Rameau and the Smurfs next.
Step 5: Find more murals en-route
Given that we knew there were well over 50 comic strip murals dotted around Brussels, we also checked whether there would be any other murals near the ones we were already intent on seeing.
A quick check of addresses against this trusty website showed us that some murals, such as Tintin, were just minutes apart from lots of other interesting street art pieces.
Step 6: Fill in the gaps on your map
So, we filled the gaps between each of the main murals with others we would try to find along the way, leaving us with about 6 or 7 murals to see in total.
Step 7: Look for more street art as you wander
During the walk itself, we made sure to look around corners and keep our eyes peeled on every building we passed, which presented itself with a handful of other murals and street art we were pleased to have found.
Step 8: Share your knowledge with others
Then, we came back home, and wrote this blog post in order to give you some inspiration ahead of your own self-guided walking tour… tada!
---
We hope this Brussels comic strip murals walking tour comes in handy when you next visit Brussels! Which mural are you most excited to see first? We'd love to know what you think so feel free to jot a few notes down in the comments below…
Want more Brussels inspiration? Check out our weekend itinerary!
Did you like this self-guided walking tour? Share it around now!