This article may contain affiliate links, which may earn us a commission - at no extra cost to you - if you use one of our links. Please see our disclosures page for more information.
Most first time visitors to Hawaii think of three things when planning a 3 day Oahu itinerary: Waikiki Beach, Pearl Harbor and Diamond Head.
Now there's nothing wrong with this as these sights are all must-sees, but there is so much more to Oahu than you might think. I mean, there was so much more to see than even we realised before we travelled around the island ourselves!
But now that we've experienced Oahu as part of our 7 day Hawaii itinerary and our 2 week West Coast USA itinerary, we're here with this detailed Oahu travel blog to show you all the very best bits to see on Oahu in 3 days – from the well-known to hidden gems to all the very best beaches. Are you ready? Let's go!
Incredible 3 Day Oahu Itinerary For First Time Visitors
Day 1: Honolulu
You might want to spend your first day in Oahu getting settled into your hotel or apartment, getting your bearings in the local neighbourhood and taking it easy.
As you'll likely be flying into Honolulu, we think your first day is best spent getting to know the area. If you're able to, you might also fancy a hike to Diamond Head.
Here's what we recommend you see and do in Honolulu.
Waikiki Beach
Known all across the world, Waikiki Beach hardly needs an introduction. But for those of you who are less familiar with Hawaii or think you'll miss Waikiki because you've heard it's overrated, then here's what we have to say about it. 
Waikiki Beach stretches for just two miles and is a beautiful sandy beach. While you'll find high-rises and boutique resorts behind it rather than a jungle, you'll easily forget where you are once you face the ocean.
Beautiful sunsets can be seen along the horizon and the bay itself is warm and calm enough to swim in.
Surfers and bodyboarders like to use the bay. But there's a breakwater near the swimming area, so you'll be safe from both watersports enthusiasts and large waves here.
Some say Waikiki Beach is overrated, and while it wasn't our favourite beach in Hawaii (our favourites were in the North Shore area), it was amazing to be able to take a short stroll from our apartment to such a pleasant beach and bay.
Diamond Head
Diamond Head is another popular attraction in the Honolulu area and is well worth it if you have the time and energy.
Diamond Head is part of the 2.6-million-year-old Ko'olau Range of volcanoes. Just one single eruption over 300,000 years ago created Diamond Head's crater, which you can hike to the edge of in around two hours.
It gets its name from British soldiers who visited the area in the 19th century and thought that the sparkling calcite crystals on the nearby beach were diamonds.
Locals know better so they call it "Lēʻahi" which translates to "brow of the tuna". Apparently, the ridgeline looks like a tuna fish's dorsal fin, but I'll have to take their word on that!
Once you've hiked to the top, you'll see epic views across the ocean and back to Honolulu and the Waikiki area.
As such, Diamond Head is now considered to be one of Hawaii's most popular state parks and hiking trails.
Day 2: Day Trip Around Oahu
To get a real flavour of what Oahu has to offer, be sure to head away from the capital at least once. 
While Honolulu is touristy and busy, the rest of the island is a tropical paradise and oh-so beautiful!
Although you can drive yourself around the island, there are various tours you can join if you'd rather leave the driving up to someone else.
Here are a bunch of best-selling Oahu island tours to check out:
And if you're a fan of the TV show Lost, then you can also join a tour of the various filming locations like we did, which is also a great way to see the island itself:
Read More: Finding Lost Filming Locations in Hawaii
Whichever island tour you choose, it'll be a long day (likely 9 or 10 hours), but you'll see a lot of incredible places during that time.
Listed below are some of our favourite Oahu highlights you can't miss during your day trip.
Byodo-In Temple
Byodo-In Temple is one of many Japanese Buddhist temples in Hawaii. It's in Kaneohe along the eastern side of Oahu, roughly 30 minutes in the car from Honolulu.
Because of its location, it's still considered something of a hidden gem in Hawaii. But some circle island tours do now stop here if you don't want to drive yourself.
Hawaii's Byodo-In Temple was built in 1968 to commemorate 100 years since the first Japanese immigrant landed in Hawaii.
It's also a replica, (albeit smaller in size), of the 1000-year-old Buddhist temple of the same name at Uji in the Kyoto Prefecture of Japan – and it's a joy to explore.
As you ring the sacred bell, explore the temple (without your shoes on!) and its surroundings, gaze up at the 18-foot-high golden Buddha statue and feed the fish and birds, you'd be totally forgiven for thinking you've wandered into Japan for the day.
Read More: Tips For Visiting Hawaii's Buddhist Temple – Byodo-In Temple
Waimea Valley
Waimea Valley is close to the North Shore area (right on the other side of the island from Honolulu) and is considered to be another hidden gem on the island of Oahu. 
Only a few select tours (like this one!) make a stop here, but you're in for a real treat if you find one that does.
This nature reserve and botanical garden are so tranquil with its thousands of flora and fauna, quaint bridges, trickling streams and even pineapple bushes.
But the crowning glory goes to Waimea Falls where you can swim in the lagoon that the waterfall flows into. This was even a major filming location in the Lost TV series.
Note that Waimea Valley has good paths but there are some very steep hills. We're relatively fit 20-somethings and even we had to walk up the hills backwards to save our calves from aching too much!
That said, we still saw plenty of people pushing buggies and wheelchairs up them, so perhaps we're not as fit as we think…
While you're here, be sure to stop at the onsite cafe where peacocks roam freely looking for scraps.
Just avoid feeding them as they can get very aggressive! Still, it's fun to watch them wandering around while eating a spot of lunch.
Lanai Lookout
Lanai Lookout along the southern shores of Oahu is not overly popular, but we've always struggled to understand why. 
You can see unparalleled Pacific Ocean views from here. And on a clear day, you can see the nearby islands of Lanai (hence the name) as well as Molokai and sometimes even Maui.
But its biggest selling point is what the lookout is made from! Hop over a low wall and onto the lookout and you'll be walking across unique lava rock formations – pretty neat, huh?!
Makapuʻu Lookout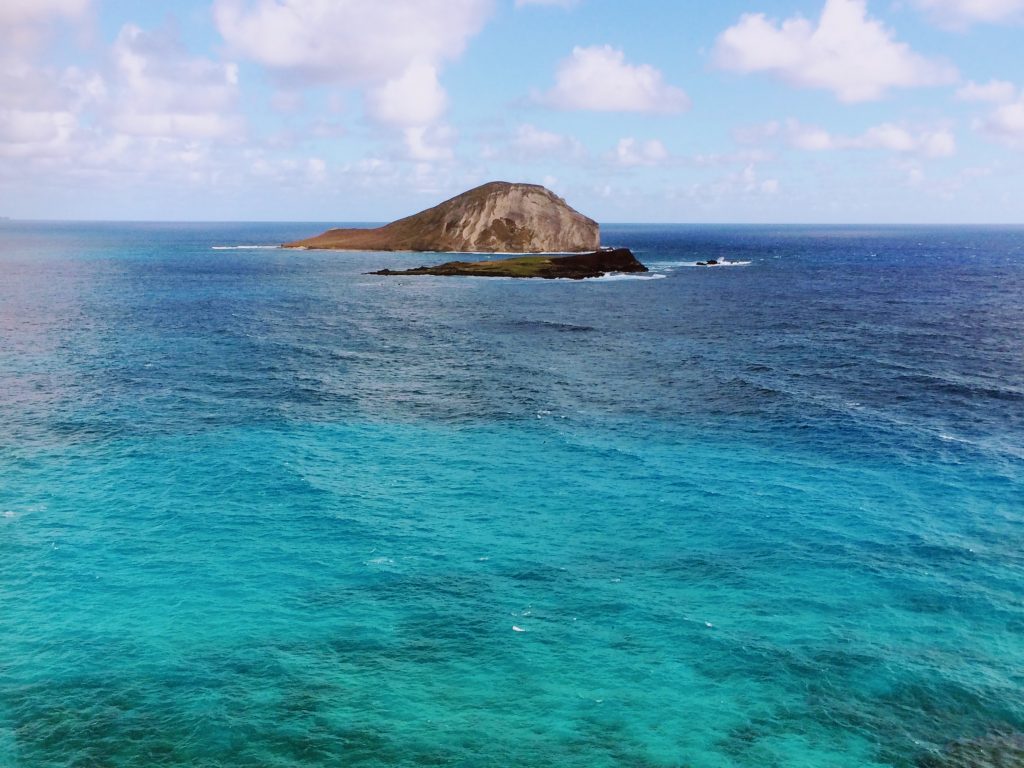 Travel along the scenic Kalanianaʻole Highway for a few more minutes and you'll come across another lookout point: Makapuʻu Lookout.
From here, you'll have yet more ocean views and a glimpse of Mānana Island, aka Rabbit Island, (which looks nothing like a rabbit!)
This little islet gets its nickname from the thousands upon thousands of rabbits that once lived there.
Kualoa Regional Park (Chinaman's Hat Lookout)
This sweet little park area is close to the sea and is a popular place to while away a few hours in the sun or to indulge in a picnic.
Our favourite part about Kualoa Regional Park, though, is the views you get of another little islet called Mokoli'i.
This one's nickname is Chinaman's Hat, owing (unlike Rabbit Island) to the unmistakable shape of the island.
Beautiful Oahu Beaches
Other than Waikiki Beach, Oahu has oodles of beautiful sandy beaches; this time backed onto by dense jungle and palm trees.
Here are a few of our favourite beaches on Oahu:
Halona Beach Cove: You have to hike down some very steep rocks to get to this stunning little cove on the southern side of Oahu, so this one might not be for everyone. It's also a well-known filming location for things like From Here To Eternity, Jurassic World: Fallen Kingdom, 50 First Dates and Pirates of the Caribbean: On Stranger Tides.
Kawela Beach: Fringed by coconut palms and thick ironwood trees, Kawela Beach in the North Shore region is simply stunning and very secluded!
Laniakea Beach: Commonly referred to as Turtle Beach by the locals, this sandy North Shore beach is well known for the many giant green sea turtles that frequently bask in the sun on the beach here.
Mokulē'Ia Army Beach: Very few tourists know about this golden sandy beach, which is also in the North Shore region. We were there as it was also a filming location for the TV show, Lost. But we could see the sand stretching for miles and hardly anyone around!
Day 3: Pearl Harbor
Finally, no Oahu itinerary is complete without paying your respects at the USS Arizona Memorial and seeing the historical exhibits at Pearl Harbor.
This is the famed location where the Japanese attacked the United States in December 1941, formally marking the USA's formal entry into the Second World War the very next morning.
You'll learn all about the history of this infamous naval base via an audio tour, which will guide you around various exhibits and even aboard a naval ship.
You can join a tour to take you here. Or it's super easy to catch a bus from downtown Honolulu; the bus drops you almost right outside the car park's entrance so you just have to walk from the bus stop for a few minutes to get inside.
It's recommended to book tickets online.
However, if you just want to see the USS Arizona Memorial and skip the other exhibitions and audio tour, then it's also possible to grab one of 1300 free walk-up tickets.
We managed this ourselves on a midweek morning in the middle of September, but you'll need to be super quick during peak times.
If you're booking a tour around the whole thing then the memorial site is included in the price you'll pay for that, so you won't miss out.
Grab your tickets for the official Pearl Harbor audio tour now >>
Was this 3 day Oahu itinerary not quite what you were after? We also offer custom travel planning services where we can plan a bespoke itinerary just for you! Find out more >>
Where To Stay On Oahu For 3 Days
Although there are a few regions you could choose from for where to stay on Oahu during your three days, we think it's really a choice between Honolulu and the Waikiki area versus the North Shore region.
Staying in Honolulu is the easier option as it's obviously near the airport that you'll be flying into, so getting a taxi or public transport will be super easy. But you might not like the built-up feeling of Honolulu.
If you're after something that's more aligned with what you think of when you imagine Hawaii (i.e. a tropical paradise) then the North Shore area might be better suited to you.
North Shore is home to small surf towns and a laid-back vibe. Just note that you'll need to spend a couple of hours on a bus to get here from the airport if you're not driving a rental car.
Here are some hotels and places to stay in each area that are highly rated by other visitors.
Honolulu
North Shore
Island Hopping From Oahu
If you want to see some other islands during your trip to Hawaii (like the Big Island or Maui) then it's super easy to do some island hopping from Oahu for a few days on another island.
Mainly because Honolulu airport is the main hub for all of Hawaii, so you'll likely find there are several domestic flights per day.
Hilo on The Big Island is the furthest airport from Honolulu and even a flight there takes less than an hour!
Just don't be caught by surprise if a) your flight has propellers rather than jets and b) it's empty!
During our flight between Honolulu and The Big Island, there must have been only a dozen or so of us on board.
Scott and I were even asked to sit in the front exit row in case we needed to man the doors. Yay for more legroom at no extra cost, am I right?!
RELATED: Oahu vs The Big Island: Which One Should You Visit?
Read More About Hawaii & Plan Your Trip
While you're busy planning your trip to Oahu, don't forget to check out our other Hawaii travel blogs:
---
We hope you've found this 3 day itinerary for Oahu helpful and full of ideas on where to go! Is there anything else you wanna know to help you plan your trip to Hawaii? Drop us a line below and we'll reply asap!
Want more help planning your trip to Hawaii? Check out our custom travel planning services!
Did you like this 3 days on Oahu itinerary? Pin or bookmark it now, plan your trip later!